Just when you think you know someone!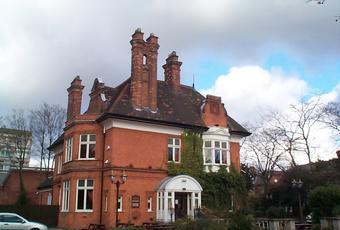 Its funny how the longer you know someone the less you actually do. Liz came round for tea on Thursday and very pleasent it was to. We sat and chatted about all manner of things espesially the general election as the results were only hours away. As a matter of fact
Liz
even walked with us as we went to cast our vote. This was not the alarming incident that has caused me so much concern. At 9.00pm Karen, Kathryn and yes you have guessed it Liz all sat down to watch footballers wives. Like I say just when you think you know someone I was left with no choice but to go upstairs and watch a repeat of Little Britain well at least I got value for the License fee that night.
Friday night saw the younger two children off to Grandma's and me and Karen off to the pub.
The Woodstock
is in Didsbury and whilst I have past it many times I have never been in but I have to say it was quite pleasent. We had been invited to help celebrate one of Hannah's teachers birthdays so still unable to drive after the op I had no choice but to drink, oh its a hard life. We came home and could not decide what to eat so Kathryn made the choice for us and it was off to The Punjab we went with Kathryn and her friend.
Saturday had us entertaining some friends from Warrington where we used to live, it was good to see Phil and Helen again and catch up on old times. Actually it was good to see them and have a good old gossip. So needless to say Sunday was spent chilling and catching up on things we had not done earlier like tidying up and preparing Greenbelt stuff it is still May isn't it!